That is now beautiful from such a day. First one Response, by mail, that's still quite anonymous, a name, a person, someone unknown who suddenly sends a message. The message came through my website and it was someone who visited my Exposition in the hospital. She did herself feel touched and stirred by a painting of mine.
Daily life
I experience my experiences privately, inside. My eyes meanwhile wander round in the world I am in. And I consume my impressions very visually. I have a job and spare time while I visit different places where I am touched and moved. Sometimes simple or with a combination of emotions. My job in homecare, where I meet people at home, demands guiding, I connect and communicate with words, listening and talking or taking action. Doing things, making plans, motivating people to take initiative, inspire them and so on. while then in the other time I like to be in nature, to go to my work or back home I am on the bike, and often on route. This allows me to let my thoughts run free, while looking around where I notice forms, structures light and air etc.. But on trips In weekends or during holidays I can go further from home and absorb more quiet impressions take the time to see other things. And visit place I like. To hike or just sit and enjoy.
The Moddergat and Paes,
If you want to know the place, go Read about it here.
It was a place where I sat on the dike with my partner. We had our easels with you and I made a small cloth on location. They too. And we made pictures, come home I wanted to stay with that feeling of this holiday, and I want to be able to do something of "communicating". I had a private feeling, but by painting I look for something universal, something that I For example this place, this Historical area but also this particular nature see. It reflects and me, evokes an emotion and inspires it. So I came to this canvas.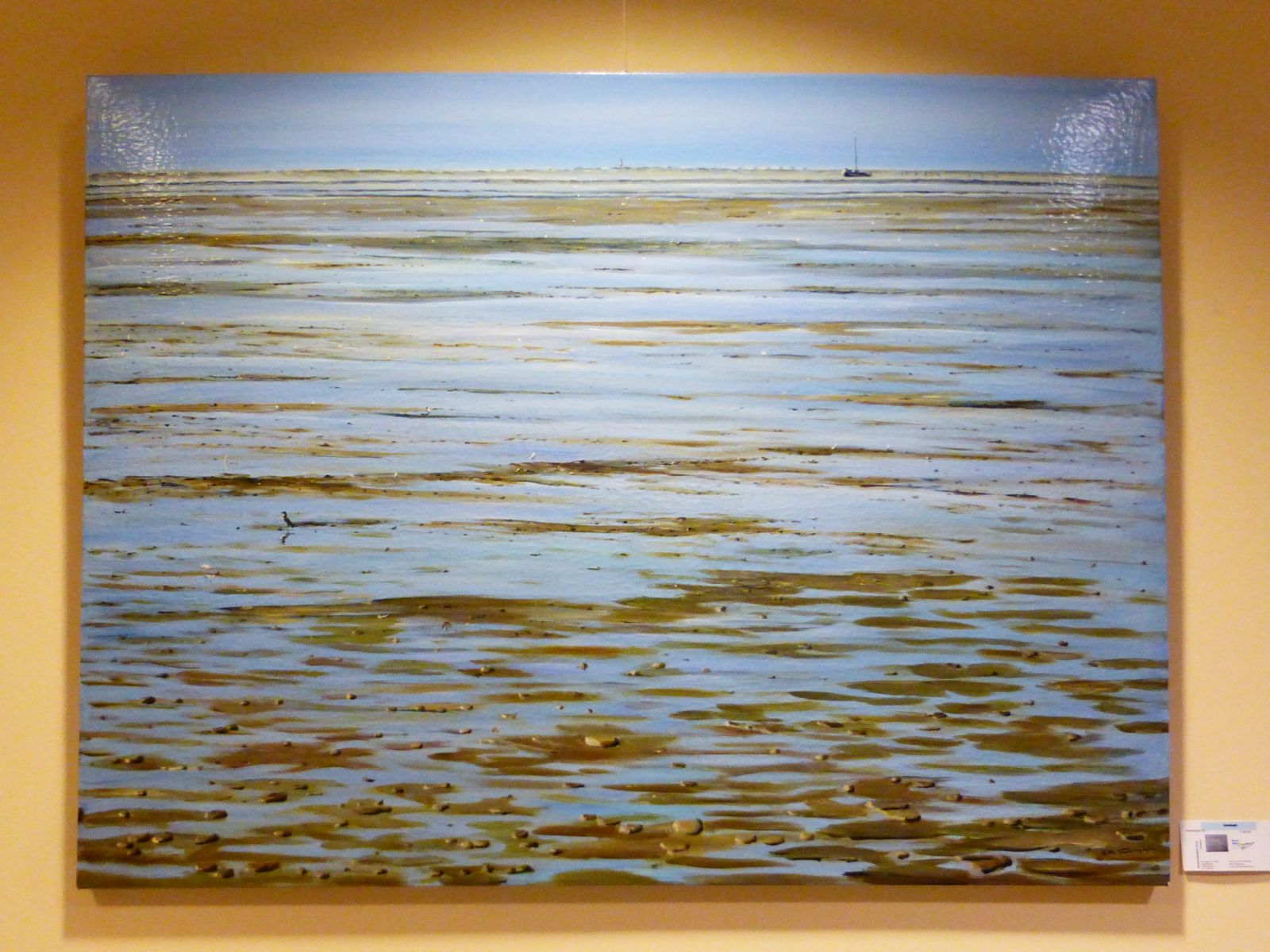 Every man is different, for example, Dinie also made a painting inspred by "Het Moddergat " it reflects hér feelings and it also appeals to people. So it could happen that her canvas North Holland Moved for a special exposition on the waxing water of the Netherlands. Every person has an feeling, its own expression. How one works more abstract, the other more realistic. Just how your nature is.
With my background of the Youth Federation of Nature Studies, I have also developed a certain view at nature. and learned how important nature is. Breeding grounds for birds, These elements can also be found in my paintings. I note the characteristics of the landscape. This painting is about the muddy wetlands, between the land and water, This is usually, More or less stable. There is ebb and flow, waxing water. The Wadden area is so A beautiful nature area and Special Precious For our country.
But then, a year later, someone suddenly stands in front of my painting, because they had to be in the hospital. And it was seen and gave some awareness, like I was told that this woman felt that she was in the vast land. She was drawn into the picture to the horizon and a feeling of tranquil feeling of rest came over her. Something she needs in a busy hectic Life where she had just lost herself in restlessness. Is n't that is beautiful, that the image I paint can connect with anyone, and "touches" a soul?!